Shop Premium Crystal Singing Bowls

Large Selection & Free Shipping
Shop Singing Bowl Sets
Perfectly Harmonized
Create your own set and save 10% or simply choose one our already hand selected harmonized crystal singing bowl sets. Choose from two, three, five or seven crystal bowl sets today.
Shop Singing Bowl Sets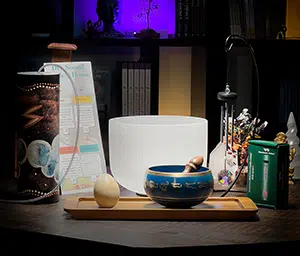 Sound Bath Kit
Step By Step Instructions To Start Sound Bathing TODAY!
Now you can begin enjoying sound bathing at home with this DIY sound bath instrument bundle, hand created by the sound therapy experts at The OM Shoppe.
Sound Bath Today
One of A Kind Alchemy Bowls
Sound Solutions For Better Health
Browse, listen and watch videos Alchemy Singing Bowls. Including Rose Quartz, Aqua Aura, Peridot, Amethyst handheld practicioner singing bowls and more.
One of a kind Instruments
Everything is vibration. Changing our vibration can have a significant impact on all aspects of our lives, including our health, our emotions and our general well-being. At The OM Shoppe, we specialize in tools and gifts of nature that can be used to positively influence our vibrations to improve our lives.
We look forward to helping you raise your vibration and tune up your happy!

Largest Selection of Beautiful Crystal Singing Bowls
Explore our extensive curated selection of Quartz Crystal Singing Bowls, Tibetan Singing Bowls, Cases, Accessories and more. Listen before you buy, watch videos or even build your own custom chakra set.
Shop crystal singing bowls
FEATURED PRODUCTS OF THE WEEK
The powers of sound & vibration along with the therapeutic properties of pure, sustainable and fairly sourced products are two powerful tools for bringing your vibration back into balance.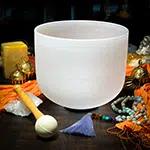 $75 Off 13″ -20″
Shop Frosted Crystal Singing Bowls
Enjoy $75 off any Frosted Crystal Singing Bowl sized 13′ through 20″. Bigger bowls resonate a beautiful lower octave between 4th and 2nd typically.  Shop ALL Notes and find yours today!
Shop Sound Bowls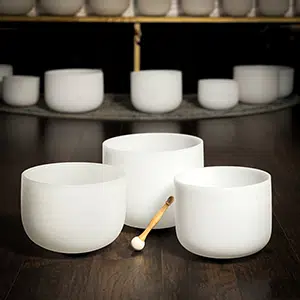 Harmonized Chords
Hand Selected Sets For Perfect Harmony
Take the guess work out of creating a set or chord. These two, three, five or seven bowl sets are perfectly harmonized. You will sound amazing today!
Get Set
Rose Quartz Fusion Crystal Singing Bowl
Alchemy Singing Bowls
Rose Quartz crystal singing bowls are one of a kind. Experience more love, peace, compassion and calming energy from their amazing crystal tones.
One of a kind Instruments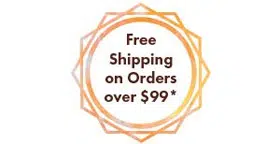 Free Educational Resources
Make sure to browse our courses, events and blog posts in sound healing, crystal singing bowls, energy healing, crystals, yoga, hypnosis and natural health.
Learn more!
Free Support 
At The OM Shoppe we care about your wellness needs. If you're not sure what you're looking for, have questions or need assistance, call or contact us.